Earth Spirit People of Texas is a 501(3)(c) religious organization
All listed events are held at Dragonz Wylde Ranch, 520 Red Rock Ranch Road, Red Rock, TX at this time, unless otherwise stated
We have been made an offer to be bought out of our share of Dragonz Wylde.
Till this happens, we will continue to host our events at Dragonz Wylde Ranch.
ESPOT is not going away. We will be purchasing new land as soon as the buy out is complete or other arrangements have been made.
We will update on this as we know more.
We ask that if you are sick, or been exposed to someone that is sick, within the last 14 day, please don't attend our events till you are better and the 14 day time period has elapsed.
Part of our goal is a place for people from all walks of life and different beliefs to be able to come together, learn from each other and build a community that is larger than our individual groups…..A Gathering of the Tribes
*********
Upcoming activities:
2nd Saturday Work Weekends
We are having our 2nd Sat Community Weekend for Feb.
*********
Our next up-coming event is:
Imbolc
Weekend of Feb 4th
Folks are welcome to come out that Friday evening to set up camp and to stay through Sun.
We will be making Bridget's crosses and talking about the history and uses behind making them. We will also have a workshop on the History of Bridget and other similar Goddesses with Ruatha and a workshop on the Disr. Who are they, what they do and what offerings do you give them.
We are open to other workshops if someone wishes to present one. Remember this is only a one day event and will start around 10am.
Entry to the mini-fest is $20 per adult or $10 if you are willing to give a workshop. Payment can be done online at Paypal.me/earthspiritpeople or can be paid at the event.
*********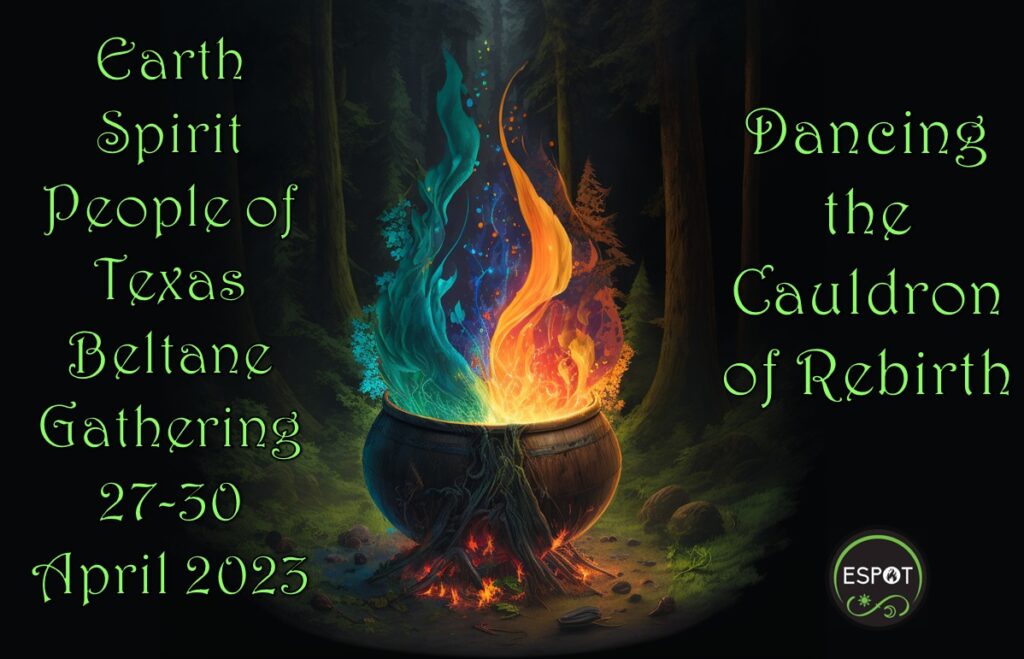 Beltane Dates are April 27th-30th 2023
Keynote Virtual Speaker: Margan Daimier
Music with Mama Gina
Tickets are on sale now
Early tickets are $50 online
On April 1st they go to$60 online or
$70 at the gate. Saturday day Pass $40
Veterans and active Military $40 at the gate

Children 17 and under are free, but must be accompanied by an adult guardian.
Vending fee is $10 for a 10×10 space, plus your ticket in. Our vending area is small, so there is a limited number of vendors that we can put in there. Spaces are a on first come basis. To vend, send an email to [email protected] telling us the name of your booth and what you are vending. This will be used when we list the vendors in the festival info.
We also have a few RV spots, must be reserved in advance
*********
Mini-fests celebrating the other Sabbaths.
Dates for Imbolc weekend of Feb 4th
Ostara TBA
We are working towards being able to celebrate all eight Sabbaths in some form.
These will be, for the most part, one day festivals. People will be allowed to come out the day before to set up camp and stay through Sunday. All the main festivities will be on that Sat starting around 10am and will include some workshops, a craft that is aligned with that sabbath, a ritual and a potluck. These are $20 or $10 if you are offering a workshop and can be paid online or at the gate.
*********
Our Gatherings are Family Friendly.
Working toward this, children are free and are welcome in most of the workshops and rituals. We even try to have some that are geared toward the younger folks. We also have a playscape area. Parents are responsible for their children in this area.
We do not babysit your children, though. If you bring them, you are responsible for them. We also ask that underage children not be at the fire after 10pm. If they are there later, a parent or guardian must be with them.
Our gatherings are NOT clothing Optional, Though, at this time, we do have a clothing optional area, that is for 18 and older only. This area is marked and has a privacy fenced in area.
Your membership in our organization is included in your ticket price.
*********
Future Event Dates:
The dates for Beltane and Samhain are always held on the last full weekend of April and Oct. This means that the sat and sun are both in that month.
Dates for 2023 are: Beltane April 27-30 , Samhain Oct. 26-29
Sabbath Mini-Fests
Mini-fests are scheduled on the closest weekend to that Sabbath
*********
Men's and Women's Weekends
We try to hold these in the Spring and Fall before the two main festivals. Which one you attend depends on your perception of your gender. These gatherings are where we usually do the coming of age rituals.
These are $25 or $15 if you are doing a workshop for the event.
(We haven't been doing these at this time, but hope to restart them once we are settled on where we will be)
All online tickets can be purchased through Paypal using: paypal.me/earthspiritpeople
*********
2nd Sat Community, Drumming and Work Weekends
These are Community/work weekend to give folks a time to gather as well as do maintenance on the land and projects.
Those that wish to help with land maintenance and festival prep are welcome to come out Fri evening and set up camp.
If you just want to come out and see the land and hang with us Sat night, that is cool too.
Camping is available for those that do this as well. You do not have to be a member to come out, you are a guest of the board for the weekend.
We work Sat. and Sun. mornings. Sat evening we do a potluck meal and have fun. For those that are coming out just for the evening, camping is encouraged.
For information on 2nd Sat please email us at: [email protected]
*********
Support Earth Spirit People of Texas on Amazon Smile!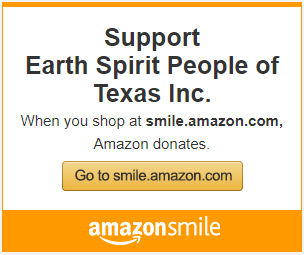 To use Amazon Smile is no extra cost to you and Amazon gives us 0.5% on the purchase price of eligible purchases. Look for the "Eligible for AmazonSmile donation" and must be purchased through the Amazon Smile link or have Amazon Smile turned on.